Professional commercial kitchen canopy, duct, fan, and extractor cleaning companies can save your business time and money in the long term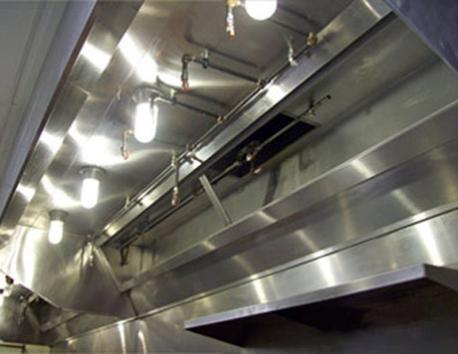 Over time a busy kitchen can get clogged with grime, grease and dirt in areas that aren't always visible to the naked eye. The canopy, fan, duct, extractor and cooker hood are all potential bottlenecks for such hidden dirt to congregate. The potential risks within a kitchen environment are obvious. A commercial kitchen, canteen or restaurant, in particular needs to be maintained and cleaned in order to keep to the required health and safety standards that are needed to continue trading, prevent accidents and to protect the wellbeing of staff working within the kitchen.
According to the Health and Safety executive 'nearly two-thirds of accidents investigated in catering stem from maintenance in one way or another', adding that 'in some cases the problem is a lack of any maintenance at all'.
The potential costs to a business, and its workforce could be significant – including loss of life. However it shouldn't take a potential accident to underline the need for regular maintenance and cleaning of a kitchen canopy, fan, duct or extractor. The poor ventilation itself can result in an uncomfortable working environment which also leads to increased staff turnover, and the additional costs of replacing and training staff.
The risks are far outweighed by the benefits, and according to the HSE, a well maintained kitchen duct, extractor, fan, and canopy should:
Remove cooking fumes at source, i.e. at the appliance
Remove excess hot air and bring in cool, clean air, so the working environment is comfortable
Make sure that the air movement in the kitchen does not cause discomfort, e.g. from strong draughts
Provide enough air for complete combustion at fired appliances, and prevent the risk of carbon monoxide accumulating
Be easy to clean, avoiding build-up of fat residues and blocked air inlets, which lead to loss of efficiency and increased risk of fire
The HSE also advise that businesses don't try to cut corners by cleaning a kitchen duct, extractor, canopy, or fan without the involvement of a trained professional and the necessary cleaning equipment as 'good maintenance by competent staff ensures that equipment performs well and reliably, and helps prevent accidents', also adding that 'the maintenance work itself must be done safely'.
Professional cleaning companies such as Manchester based Deep clean kitchens specialise in kitchen duct, extractor, canopy and fan cleaning for commercial kitchens. Such kitchen cleaning experts adhere to HSE guidelines thus giving business owners, and their insurers, peace of mind, whilst the workers get the reassurance of a safer working environment.
"We carefully select and train all of our staff so that they are able to take on any kitchen cleaning job, of any size, and do the job to the standard that's required in order to safely operate a commercial kitchen" says a spokesperson for Deep clean kitchens, adding that 'upon completion of cleaning works we also supply a Compliance Certificate for the kitchen and a separate certificate for the ventilation/extraction system'.
Kitchen cleaning services from Deep clean kitchens and other professional kitchen cleaners also have the added benefit of the flexibility to work around a busy kitchen's schedule. A thorough kitchen clean, including the fan, canopy, duct, and extractor may require the work being done at unsociable hours so as not to affect the kitchen's day to day operations. As a result it's advisable to speak to a kitchen cleaning business about what hours they are able to work and consider any cost implications of having to close the kitchen for such work during trading or operating hours.
A well maintained and thoroughly cleaned kitchen is essential for any commercial kitchen to operate to the required safety standards. It protects the workforce, creates a healthy environment to work in, reduces hazards and accidents, and will more than likely be required by an insurer.
Leaving a kitchen canopy, fan, extractor, or duct open to wear, tear and grime exposes a business and their staff to a variety of unnecessary risks. Whilst this may be seen to save costs in the short-term, in the long term it could result in significant financial and human loss to the detriment of a business. So, it's always best to check out the HSE guidelines for advice on kitchen maintenance and cleanliness and employ a professional kitchen cleaning company like Deep clean kitchens to make sure that you are up to date, and meeting the necessary saftety standards.
The Health and Safety executive website can be found at http://www.hse.gov.uk.
Deep clean kitchens are based in Radcliffe, Greater Manchester and provide professional Fan cleaning, canopy cleaning, Duct cleaning, extractor cleaning and general cleaning services for industrial and commercial kitchens throughout Manchester, Lancashire, and the Northwest. Deep clean kitchens can be found online at http://www.deepcleankitchens.co.uk/, or at 133 Bury & Bolton Road, Radcliffe, Manchester.